The Carnival of Lost Emotions
Wednesday 13th March, 2013
6pm, Bart's Pathology Museum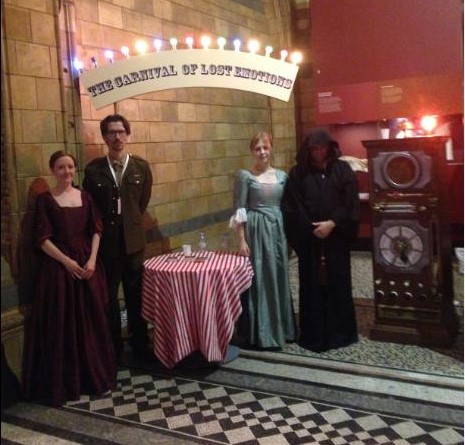 The Centre for the History of the Emotions at Queen Mary, University of London and Bart's Pathology Museum bring you THE CARNIVAL OF LOST EMOTIONS, supported by the Wellcome Trust.
Join the mysterious Ringmaster, his Lost Emotions Machine and his team of historical assistants, as we take a dark and unsettling look at the emotions of the past and present.
On 13th March 2013, between 18.00 and 21.00 at Bart's Pathology Museum, be amazed as the Lost Emotions Machine pulls long-forgotten, obsolete, and non-'Western' emotional states from the ether.
Emotional states such as Koro, Accedia, Lack of Moral Fibre and Nostalgia will be revealed and explored, with examples from real historical cases.
From modern neuroscience to medieval monks – this emotional journey will amaze and surprise you!
Doors open for free wine and nibbles at 18.00; show starts at 19.00 and lasts just under an hour. The rest of the time is to eat, drink and discuss.
This event is part of an international program of events in support of Brain Awareness Week 2013.
Venue: Barts Pathology Museum, 3rd Floor, Robin Brook Centre, West Smithfield, EC1A 7BE
See also: