Carnival of Lost Emotions at Queen Mary Community Festival
Saturday 4th June, 2016
12.00, Queen Mary University, Mile End campus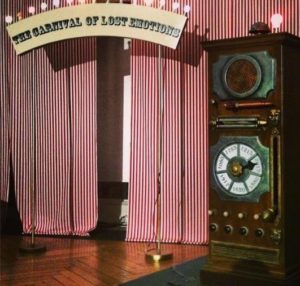 Roll up, roll up to the Carnival of Lost Emotions! Drop in to our circus-themed tent to participate in activities for all ages, including:
The Lost Emotions Machine. Travel back in time and discover emotions of the past, guided by one of the Centre's researchers
Emotional Talismans. Do you carry around an object that has emotional meaning? Discuss your emotional talismans with our team and add a photo to our picture wall and our Flickr gallery. Join us to learn about East End folklorist Edward Lovett, view our collection of charms and amulets and talk about living with feeling past and present.
Emotional Body Portraits with Liz Atkin. This session is led by London-based visual artist Liz Atkin, whose art re-imagines and transforms her own experience of Compulsive Skin Picking. Open to all, children and teenagers especially welcome! A mindful session mapping and reimagining the emotions of our bodies through dynamic colour and texture on large pieces of paper. No need to bring anything but your imagination!
For full details of the campus festival, visit: www.qmul.ac.uk/festival