Bangladesh at 50: Beyond RhetoricThursday 9th December, 2021
1:00 pm, Online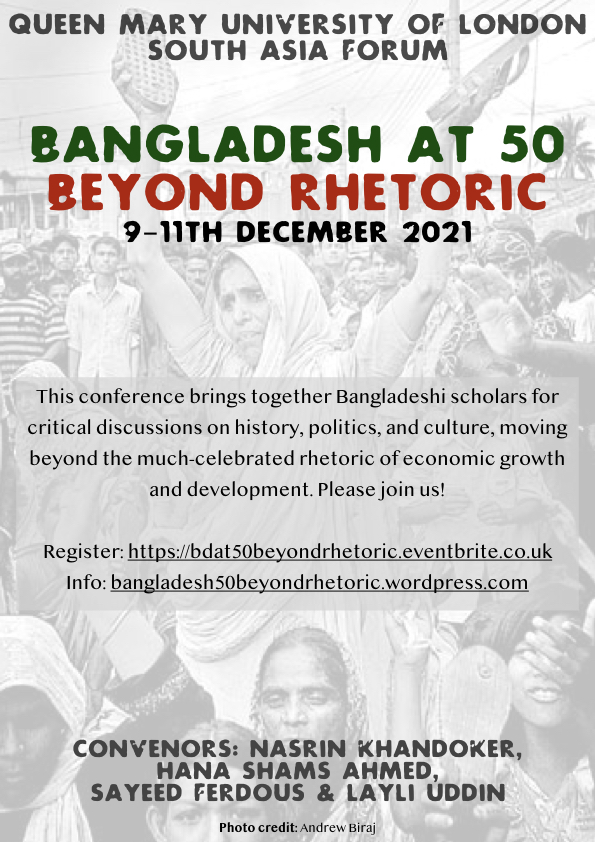 Please join us for a three-day online conference on Bangladesh at 50, hosted by the QMUL South Asia Forum. The conference will bring together scholars of, and from, Bangladesh for critical discussions on history, politics, and culture. Going beyond the much-celebrated rhetoric of economic growth and development, scholars will engage with the following questions: what visions emerged in the making of Bangladesh? Who are the powerful and the excluded? What has it meant to live on the margins of the state?  What are the spaces and politics of resistance?  The conference will address issues affecting the lives of marginalised in Bangladesh, exploring a wide-range of topics such as climate change, capitalism, labour rights, LGBT issues, violence and state power. Come along for this urgent discussion at the important juncture of Bangladesh turning 50. This conference will be hosted on Zoom.
Click here to register | Click here for Full Programme with Abstracts and further Info
Contact: bd50beyondrhetoric@gmail.com
Convenors: Nasrin Khandoker (Jahangirnagar University, Dhaka); Hana Shams Ahmed (York University, Canada); Sayeed Ferdous (Jahangirnagar University, Dhaka) & Layli Uddin (Queen Mary University of London, UK).